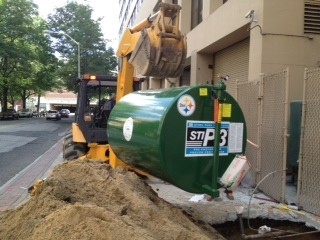 Oil Tank Excavation and Removal With Our Machine
Barrier Contracting has trained professionals to help guide you through the oil tank removal process. If your tank is above or below ground we have the expertise to provide excellent service. We remove 275, 550,1000 up to 16,000 gallon oil tanks. If you are buying or selling a home, we recommend any underground fuel oil tanks be removed before the contracts are signed.
Oil Tanks over 25 years old can have a 20% failure rate. If you wait until you have a leaky tank it can be a disaster. If your storage tank is leaking we can provide you full service environmental remediation including soil removal, water disposal, soil testing, etc. We handle inspections, sampling, closure reports and meet with local inspectors to make sure any issue is resolved.
At Barrier Contracting, we provide underground oil tank removal for homes and businesses. We can bring our excavator machine to your location and remove the tank safely and efficiently. We also provide Oil tank removal by hand, which can be extremely dangerous if not done properly. Our specialists are experienced and knowledgeable about the industry's best practices, and provide excellent service every time. Trust Barrier Contracting for all your needs, from fuel oil storage tank installation to oil tank removal.
550 Gallon Heating Oil Tank Cut, Cleaned and Removed By Hand
Our team can locate and excavate your oil tank with nothing more then some hand tools and hard work. Once your tank is exposed we can clean, cut and remove it with very little interfearence with your yard or garden.
Please call For a FREE consultation
Oil Tank Excavation and Removal With Our Machine
For bigger tanks and a lower price, Barrier Contracting can bring our machine to your location.
Please call for FREE consultation
Commercial Removal 2,000 – 14,000 Gallon Oil Tanks
This is an example of removing 4,000 Gallon Oil Tanks (UST's) from a gas station. If you have large tanks for petroleum storage, we can remove or help you understand the compliance issues involved with Petroleum Bulk Storage (PBS).
Please call for FREE consultation