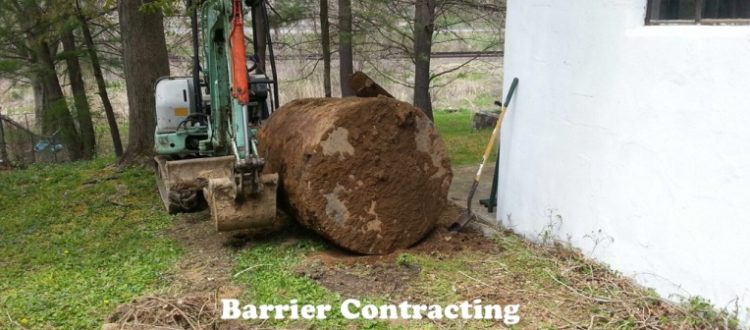 Unsurpassed Oil Tank Removal Service in Westchester County NY
Oil tank removal is not as straightforward as it may appear.  In addition to removing the oil tank the process may also involve soil and water sampling, waste disposal, municipal permits, and backfill. Regulations in Westchester County, N.Y vary greatly and are generally governed by the respective local governments.  However, New York State's overarching codes must be followed regardless of the town or village, in which you are removing or installing an oil tank.
Home Heating Oil tanks may be installed either above ground or underground. Installations above ground have become the industry standard due to the ease of use and ability to inspect their integrity on a regular basis.  For tips on inspections, click on this link http://www.barrier.com/above-ground-oil-tank-inspection/. Should there ever be an issue with an above ground tank, it can be removed quickly and easily, with little to no impact to the environment, and at a much lower cost than an underground tank.
Underground home heating oil tank removals can be extremely dangerous if not done properly, and by a licensed professional. If a tank isn't removed by a professional there are many risks, not the least of which is safety.  If not done properly, an oil spill could occur during the removal leaving the homeowner liable for cleanup and other associated costs. Another risk is the improper collection of soil samples and failing to create the proper closure report.  Should both of these not happen in accordance with local and State codes, the removal may not be accepted by future buyers or municipal inspectors. In Westchester County, be sure to ask for the contractor's license number and references.  Your contractor should always be licensed experienced.
After an underground oil tank is removed it is imperative to collect a soil sample to confirm no petroleum contamination has occurred. Soil testing involves sending a sample to a licensed and certified laboratory to test the level of chemical elements.  The most reliable labs utilize the STARS Method 8260/8270 in order to test for volatile and semi-volatile compounds. If the test shows these compounds are present, in most cases, a remediation is required. This process involves removing and disposing of any petroleum contaminated soil and collection of endpoint samples to prove the soil is clean and pollutant free. If the petroleum gets introduced to the groundwater that must be remediated as well. Water samples are also sent to certified labs for the same analysis. Since oil can float on water and can spread contamination more rapidly it is important to know the condition of the water. The New York State Department of Conservation sets guidelines that contractors are required to follow in order to remedy any petroleum release.
In Westchester and Putnam Counties, N.Y. Barrier provides the most cost-effective solutions using latest technology and equipment. We leverage our years of experience and impeccable safety record to provide efficient and cost-effective work. Being a local small business enables us to provide you with exemplary service at reasonable costs.
If you or someone you know is looking for an oil tank removal or installation service in Westchester or Putnam Counties, contact Barrier Contracting – a fully licensed and insured company that offers a most any service for your oil tank.